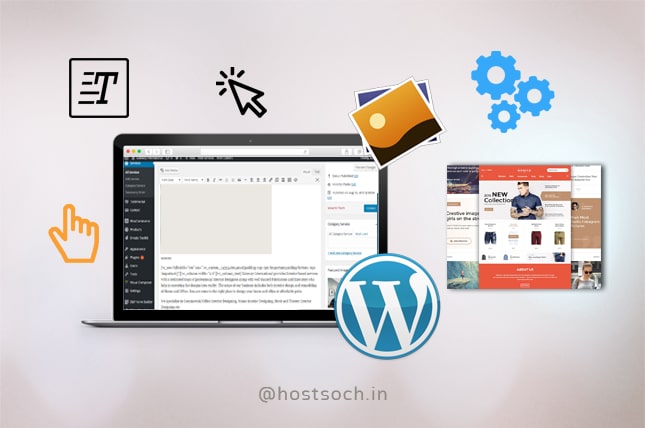 Starting a new website? Wondering how to create a one? Then fasten your reading glasses, because I am going to share with you the ultimate tutorial to learn how to run your personal or business website. I will take you through a few quick steps, here it goes:
#1 Designing a website- need for a platform
WordPress is an ideal platform for someone who's creating his/her first website. Although there's lot of platforms available to choose from, but it's considerable scaleability and easy installation makes it the primary choice among the users.
Most of the products and features associated with WordPress are fairly straightforward and intuitive to use which makes it ideal for even non tech savvy online entrepreneurs. WordPress is used by nearly 75 million websites in the world and has both versions- paid and free available for you. Often beginners confuse the two and end up choosing the wrong platform. To help you in this regard-
WordPress.org is the tool for content management if you are looking for an open source platform. With WordPress.org you host your own blog or website and WordPress.org is where you can download and install on your own web server. Thats why WordPress.org is also called a self hosted platform or just WordPress).
While, WordPress.com is the free and hosted version of WordPress that helps you in building a simple blog or website in just a couple of minutes even for those who are non tech savvy. While it definitely includes many features which is perfect for the beginners,  you lose much of the flexibility of the self-hosted WordPress. You won't be able to premium themes or plugins from 3rd parties or monetize your site through ads, or even customize the underlying files that boost your site.
We describe the differences between the two here. For now, lets just discuss about WordPress.org, because, if you want to truly own your website with complete control, self-hosted WordPress.org is almost always the best option.
#2 Domain name and extension
Now that you have a platform you can create your website on, you need to register a domain name . You might already have thought of a name that resonates with your business niche and is easier for people to remember and find out in the plethora of websites on the internet. You can go to domain services providers to find out whether the domain name of your desire is available for you to register.
For extension, you can choose any from .com, .net or country-specific extensions such as .in, .uk, .nz as well as the customized ones like, .blog, .shot, .biz and more. Many service providers out there offer free domain names too, check if yours is available or not.
#3 Selecting a hosting provider
Next up, you'll need signing up to a hosting provider to store your website files and multimedia content. There are many hosting packages to choose from, the common types are:
• Shared hosting: This is where you get a part of entire server space, which is shared with others as well. Personal or small business websites are suitable for this type of cost-effective hosting. HostSoch's WordPress hosting and shared hosting are recommended options out of many available WordPress hosting plans like Cloud hosting, VPS, to run a standard WordPress site.
• Dedicated Hosting: If your website offers music, movies or any media sharing or download services or a regularly updated blog with high traffic, you'll probably need more space comparatively. Hence, this type of private hosting will give you more storage capacity. You can subscribe to the hosting plan that suits your budget and requirements.
#4 Configuring WordPress and constructing the website
Now that your hosting provider has allotted you space on a server, you can start giving your website a shape using WordPress. Following are the steps that need to be followed going forward:
Visit the dashboard to locate Control Panel.
Find the 'Install WordPress' button and begin the installation.
Fill in all the required details such as domain name, email, username, password and more during the installation.
Complete installation.
Now you are all set to access your new WordPress site. Don't forget to note credentials here
#5 Website themes, plugins and content
Now that we have known all the nitty-gritty of constructing entire website base, next up is the appearance. You must pay close attention to how your website appears to the readers. You can take control of website designing by customizing it right themes, matching content and images and more.
Go to yourdomainname.com/wp-admin and log in using credentials generated in the previous step to access WordPress admin menu.
Now you can see the submenus named Dashboard, Posts, Media, Links, Pages, Comments, Plugins, Appearances and more.
In order to activate a theme of your choice, go to Appearances →Themes. Here you can see an extensive list of available free as well as paid themes. Search for a theme of your desire and install it.
From Appearances →Menu/ Widgets/ Background you can add a few more functional elements to your website.
Go to pages→Add New to create your website pages and publish them. Upload in media section the files such as images, audio, video files that you want on your website.
You can add dynamic content in the form of posts (Posts →Add New) and publish on your website.
Adding plugins that perform a specific function to your website makes it more efficient. You can install plugins for checking and improving SEO, social media sharing, contact or download forms, manage image galleries and more.
#6 Whoopee! Time to launch the website
And your website is now ready to go live. A complete information loaded website is all you need to give a thrust to your business sales. Well, this job is done for once. Afterwards, you need to keep updating the website in accordance with changing styles and requirements.
Quick Tips
Your website should be responsive to deliver flawless browsing experience on mobile devices.
Choose a theme that complements your niche or products.
Ensure that your content is neatly placed together with website theme and other visual elements so as to create an elegant appearance.
Your website should be user-friendly and easily readable such that visitor can find the information of his interest easily. The visitor should be able to navigate through your products or services quickly.