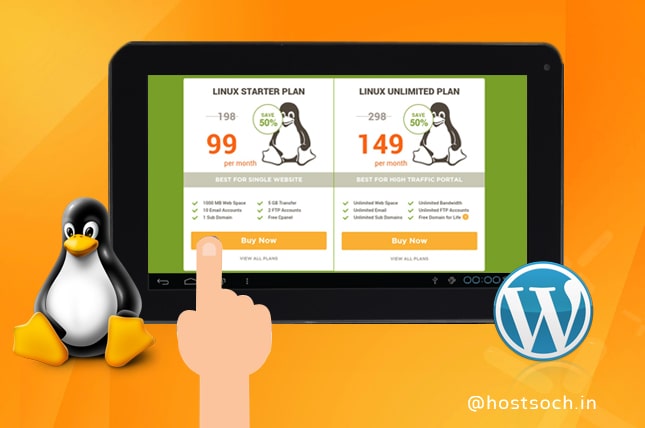 Are you looking for a good hosting to create a website? If you're confused about which hosting plan to hire, then you're not alone. Majority of people faced with this question and drop their plan of creating a website. Hosting is one of the important things you need to have while going to create a new website. It affects your website ranking, quality and maintenance. You can never choose the right hosting plan without knowing what you need.
Every web hosting plan has unique features and provides a different level of resources? How can you pick the right hosting plan for you?
Before the small mistakes turn grave, you must switch to a professional web hosting company. Well, there are numerous things that should be considered while choosing the right hosting plan. In this article, you'll get to know how to choose a perfect hosting plan.
#Step 1: Understand What You Need
You can find the right web hosting plan once you understand the purpose of your website. Ask yourself the following questions to figure out what you need:
What type of website you want to create?
How much traffic do you want on your website?
Planning to expand its size in the near future?
#Step 2: Size of Your Website
Keep in mind that the size of your website determines the disk space required in your hosting. You need to choose the hosting plan according to the size of your website. Let's have a look at ideal hosting plans for small to medium and medium to large websites.
If you have an institutional website or a blog, then shared hosting is ideal. Shared hosting is one of the popular hosting plans for blogs. It is offered by all web hosting companies. And hosting plans range from Rs. 109 to Rs. 390 per month. Under this hosting, multiple clients share the same server.
In case, you have to create a website with a large number of pages and having huge amount of visual content i.e. images, videos etc, then it is advisable to go for a robust hosting plan i.e. VPS server, cloud or dedicated server
#Step 3: Access to Your Website
Are you getting a lot of visitors on your website? It is important to evaluate your website traffic because of the bandwidth offered by the hosting plans.
Small to Moderate Access
If you have a small or moderate-level blog, then you can choose shared hosting. Once your blog starts getting a number of hits, you can upgrade your hosting plan from shared hosting to virtual private or dedicated server.
Huge Accesses
A website with lots of hits can consume the resources provided by hosting server quickly. And it may cause the website to be down. Majority of people have to face this situation if they own a website having a wider audience. For this scenario, VPS, Dedicated or Cloud hosting plan is recommended.
#Step 4: eCommerce Store
If you own an eCommerce website, your web hosting needs to offer SSL security protocol, Dedicated IP and one-click shopping cart software installation to maintain the security of customers' data. Their information will be at risk if a particular website hosting doesn't offer this kind of security. The hosting plan depends on the size of your eCommerce store. If your eCommerce website has a few pages and products, an ordinary web hosting with dedicated SSL and IP will work for you. For medium and large eCommerce store, robust hosting plans i.e.VPS server, dedicated server, and cloud are required.
#Step 5: Evaluating A Good Hosting Company and Plan
From the above information, you'll be able to choose the right hosting plan for your website. We have compiled a few things to consider while hiring a web hosting company
About Web Hosting Company
Reputation: What are the feedbacks by customers regarding the services of the company? How long has the company been in business?
Customer Support: Does the company provide 24*7 customer support? The internet never sleeps. Customer support is the first option that comes to mind whenever you have issues with web hosting. So, they must be available all year around.
Management: Is the control panel easy to understand?Service Guarantee: Does the company offer any guarantee on refund in case the customer is not satisfied?
Server Guarantee: Does the company offer a guarantee of server availability?
About the Web Hosting Plan
Disk Space: How much disk space is offered in a particular hosting plan?
Data Transfer: What is the bandwidth limit of the web hosting plan? Is there any charge per GB over the allowed bandwidth?
Platform: Offering Linux or Windows hosting?
Email: How many email accounts are offered in the plan?
Uptime Score: It is important to have a web host that operates on a powerful service. The recommended uptime is 99.5% and above.
An Easy-to-use Hosting Control Panel: A user-friendly hosting control panel is highly important. Without a functional control panel, you can't do even basic server changes yourself.
Price: If the hosting plan is good and its price is within your budget, then it is advisable to go for that particular plan.
Additional Features: What are the extra features available in the hosting plan?
By considering the above five steps, you'll be able to choose the perfect hosting plan. So, let's take your step forward to make your website flourish to the heights.
Which hosting plan do you use and why? Kindly let us know in the comments.
Any questions regarding web hosting? Please feel free to ask in the comments. Your suggestions and ideas are also welcomed.