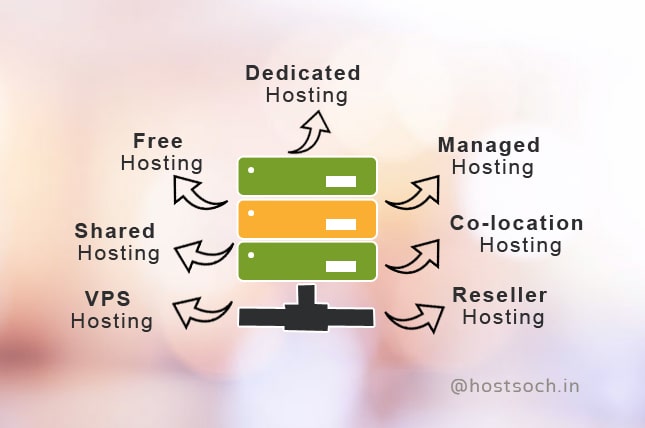 Not all websites are same in design. So, every site needs a web hosting service provider to meet the unique requirements of the website. Well, there are a number of web hosting companies out there. However, customers get confused by different types of web hosting plans available. Choosing the right hosting plan can be a daunting task if you're not tech-savvy.
In this article, we'll explain different types of hosting i.e. Shared, Cloud, VPS and Dedicated Server. Let's dive into the differences between the four different types of web hosting.
Shared Hosting:
It's not secret that shared web hosting is the most basic and popular type of web hosting and generally the cheapest one. Majority of people choose a shared web hosting plan to minimize costs for their startup. This hosting plan is ideal for a brochure type site or a new website, blogs, portfolio sites and personal websites.
With shared web hosting, you're sharing all resources of the server with other users on the server. You must choose shared web hosting plan if you don't know how to set up your own server and need a web host. The major benefit of shared web hosting plan is that you don't have to be a professional webmaster to work for it. Generally, this hosting plan provides you with enough space and bandwidth to run a number of websites.
Features of Shared Web Hosting
Instant Activation
24*7 Full Control
Free Tech Support
Corporate Email
Complete Database Support and many more
Why Choose Shared Web Hosting?
Cost Efficiency: The best thing about shared hosting plan is its price within budget. As a single server hosts many websites over the internet, the cost is distributed over each of the websites. This hosting plan costs around $50 to $100.
Operational Ease: As the servers are associated with many websites, individuals don't need to worry about maintaining the server.
Features: Forums, blogs, chat, calendars and many more features may be included in your shared hosting package.
VPS (Virtual Private Server) Hosting:
In this web hosting plan, the server hardware is shared amongst different account users. Virtual Private Server hosting is more expensive than shared hosting but less expensive than dedicated web hosting. There are two types of VPS web hosting- Managed VPS Hosting and Unmanaged VPS Hosting. If you choose managed VPS hosting, then the web hosting company will assist you with all the technical maintenance and security of the server. And if you opt unmanaged VPS hosting, you need to look after the technical maintenance and security of the server at your own. VPS web hosting plan is scalable. So, you can easily upgrade RAM, increase storage, or buy more bandwidth under this hosting plan.
Features of VPS Hosting
Dedicated Allocation of Resources
Dedicated Web, Mail, FTP and Database Server
Scalable Web Hosting
Multiple Choice of Operating System
24/7 Technical Support
Dedicated Hosting:
Dedicated web hosting is the most expensive type of hosting. When you choose dedicated hosting, you get one physical server from a hosting company and you'll have full control. This hosting plan is ideal for eCommerce and customer relations management websites. If you're a professional and have enough budget, dedicated hosting is the right option.
Features of Dedicated Web Hosting
High Reliability
High Security
100% Dedicated Resources
Advanced Technical Support
Cloud Hosting:
In addition to shared and dedicated hosting, cloud hosting is booming up. This type of web hosting is based on the concept of clustered hosting. In this, your website remains stored on multiple servers to effectively manage disk space usage, as compared to the previous options where it was stored on a single server. As your business requirements fluctuate, you can change your hosting package based on your requirements and pay only for what you use. Majority of website owners made a worthy investment by moving to the cloud hosting, because of a pay-for-what-you-use model. One can shift to cloud hosting rather than spending on a VPS or dedicated hosting.
This type of hosting is the new normal as it is affordable, scalable and innovative. Cloud hosting can protect your site against DDoS attacks. DDoS attacks can shut down your website by overloading your server with requests which can cause it to crash.
Features of Cloud Hosting
Unmetered Data Transfer
Resources on Demand
Flexible Hard Drive Space
Scalability
Easy Website Management
Physical Security
Why Choose Cloud Hosting?
No Issues with Peak Loads: In cloud hosting plan, you can add and remove resources as per your need. There is no issue with peak loads as more bandwidth can be allocated in case of traffic to a website.
No Downtime: This hosting offers redundant systems for clients as this hosting plan is virtualized. So, there is no chance of downtime.
Ease of Maintenance: This web hosting plan manages all the hardware and software. Businesses don't need to spend time and money in maintenance. Companies can focus on their core business activities and increase profits.
Each web hosting has its own pros and cons. It is advisable to choose the hosting plan based on the number of monthly visitors your website gets, your budget and your personal preference. Hopefully, you find this post helpful. Any questions or suggestions? Please feel free to comment below. We'd love to hear your ideas and suggestions on different types of web hosting plans.